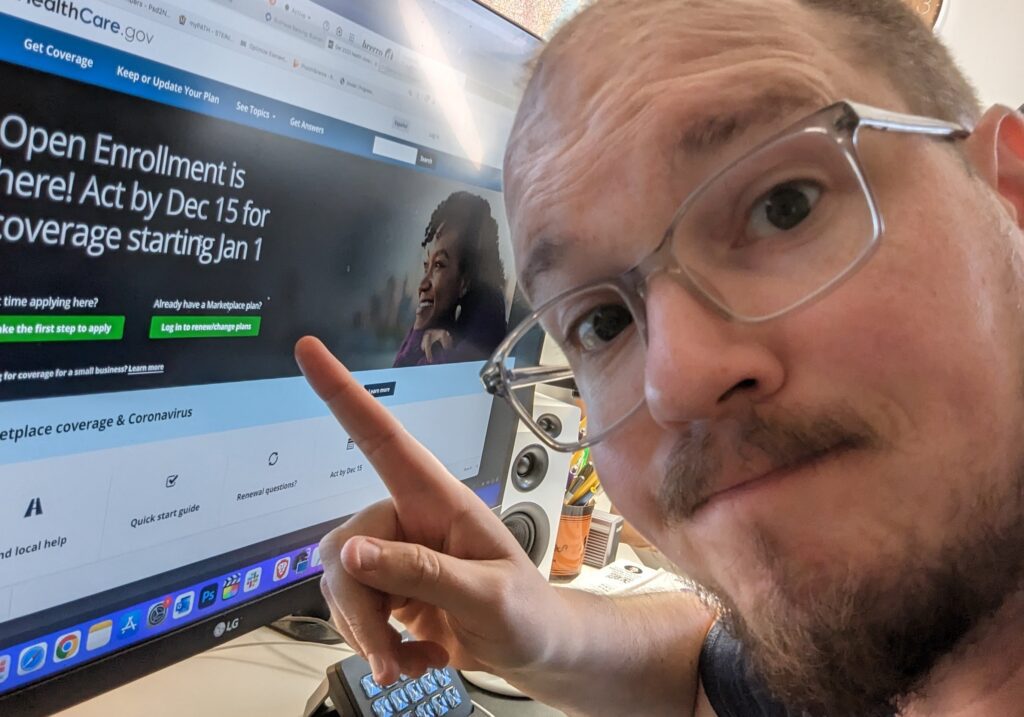 It is November 1, which means it's All Saints' Day, National Vinegar Day, National Cook for Your Pet Day, and the first day of Open Enrollment for the Health Insurance Marketplace.
If you are self-employed or anyone else who purchases health insurance form Helathcare.gov or your state's own insurance marketplace, then it's time to start shopping. Renew your coverage or evaluate new plans – and there are quite a few options to consider.
Open enrollment lasts from November 1, 2022 through January 15, 2023. But typically the earlier you enroll, the better. If you need coverage to begin on January 1, you must make your plan selection by December 15. Otherwise, if you enroll in a marketplace plan between December 16 and January 15, your coverage won't go into effect until February 1, 2023.
How to choose an insurance plan
When shopping Healthcare.gov or your state's exchange, you will see plans organized into Bronze, Silver, Gold, and Platinum tiers. The Bronze plans will have lower monthly premiums, but higher deductibles, and the Platinum plans will have high monthly premiums, but lower deductibles. "Silver" plans typically offer the best balance of low monthly costs and low co-pays, and may be eligible for additional savings in the form of Cost-Sharing Reductions (CSR) for those who qualify.
It's impossible to know for sure what your future healthcare expenses will look like. If you are generally healthy, don't need to go to the doctor often, and don't require many prescription medications, then a lower-cost Bronze plan might be a good fit. On the other hand, if you have a chronic health condition and you need to see a specialist regularly throughout the year, then a more expensive plan with lower copay and lower deductible may save you more money overtime despite the higher monthly premiums.
But there's always a risk that even the healthiest individual may get into an accident or unexpectedly develop a serious medical condition. If you do opt for a lower cost Bronze plan, you may want to consider setting aside some cash into a high-interest savings account (or better yet, an HSA – more on that in a minute). I recommend saving the difference that you would otherwise spend on a more expensive Silver or Gold plan. For example, if you are paying $140/month for a Bronze plan, and a Silver plan would cost $280/month, then save at least $140 each month in a specific account so you have money on hand to cover any medical expenses that might arise.
HSA-eligible plans
If you are shopping in the Bronze tier, be sure to explore any HSA-eligible insurance plans. HSAs (health savings accounts) are special tax-advantaged accounts. The money you contribute to an HSA is tax deductible, you can invest your savings and now pay tax on any gains (ex. HealthEquity offers different investment options, and Lively allows you to transfer your HSA savings into a special TD Ameritrade investment account), and withdraw the money tax-free to pay for qualified medical expenses. HSAs are typically only available with high-deductible health insurance plans and are a great place to sock away some of the cash you are saving by not paying for a more expensive plan. Just do some research on contribution limits and eligible expenses or else you might incur a penalty.
Other health care options
There are off-exchange options you can look into such as health share ministries or communities and private insurance purchased directly from a provider, but I would encourage starting with the marketplace's plans as they will likely be the most affordable option with the most comprehensive coverage.
This summer, the House passed a bill to extend the Affordable Care Act (ACA) subsidies that were introduced in the American Rescue Plan (pandemic stimulus package) through 2025. So for the next 3 years, healthcare premiums will be much less expensive for many more people. Prior to the CARES Act, many middle income families had to risk going over the "subsidy cliff" – a precarious invisible line where tax credit eligibility quickly dries up after you exceed a certain annual income, and left you holding the bag for your entire insurance premium.
I did the math in an earlier video on how the American Rescue Plan significantly reduced insurance premiums for families, but the benefits were expected to expire in 2022. Now that we have a lot more runway, there's a lot more incentive to do the homework (and switch plans and providers if necessary) to lock in some mega savings for the next few years.