Your webcam probably isn't cutting it
Zoom, Google Meet, and other video call services have become one of the primary ways people connect for business. As such, our webcams are more important than ever. But let's be honest – most built-in webcams make us look washed out, pixelated, and just plain bad. Don't let your laptop's subpar camera bring you down or give a bad first impression to your clients. With a simple app, you can significantly upgrade the quality of your video calls.
Continuity Camera is great… unless…
If you're an iPhone user, you're in luck. The Continuity Camera feature allows you to use your iPhone as a webcam for your Mac. It's designed specifically for newer model iPhones and Macs running the latest software. While limited to Apple devices, it offers an seamless way to upgrade your video quality.
Unfortunately, if you are an Android or Windows user, Continuity Camera is not an option. But worry not, you can take advantage of something that's even better (Apple fanboys are welcome to the party too)!
Camo that makes you stand out
Camo (by Reincubate) is a polished and versatile app lets you connect almost any smartphone to your computer as a webcam. Just go to reincubate.com/camo to download it to your computer. Follow the installation prompts, and download the companion app on your smartphone as well.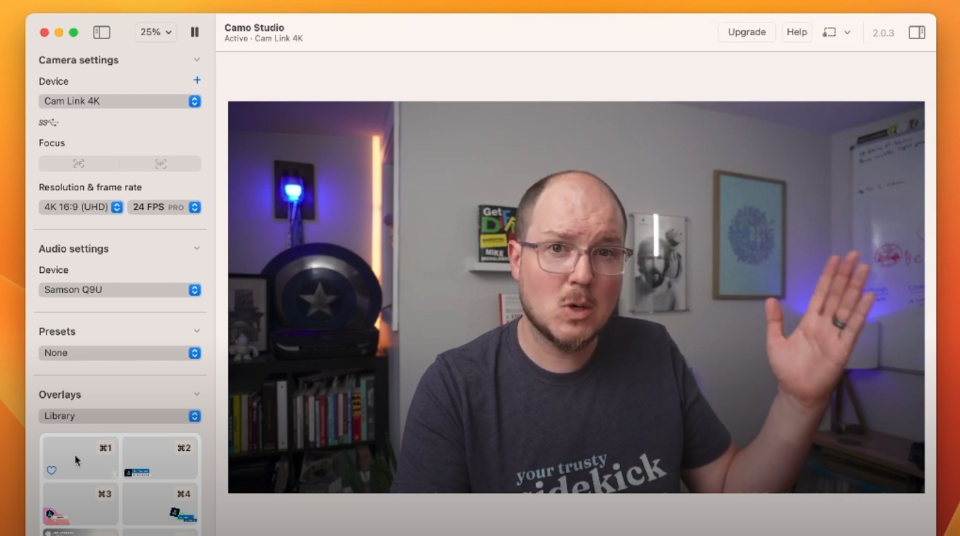 The Free Version Has Everything You Need to Get Started
The free version of Camo Studio provides all the tools you need for better video calls. The easy-to-use interface lets you add personalized overlays and backgrounds too. To connect your phone's camera, use the companion Camo mobile app. Scan the QR code, allow permissions, and you're all set.
With just a few taps, your smartphone is connected and you can use your phone's camera as a your video source. You can send your video to your computer over Wi-fi or connect your phone via USB for a more stable feed.
Record videos directly in the Camo app, or open up your video settings in Zoom or Google Meet, and switch your camera over to "Camo" to elevate your video calls.
Closing Remarks and Cautions
Depending on your camera's processing power, Camo can put a strain on your system. I found hot switching between Camo and a different video source in the middle of a Google Meet call can cause things to freeze up a bit. So definitely take it for a test run with whatever video call app you plan to use before you accidentally crash the biggest sales call of the year.
I would say, Camo is just a starting point. It is a huge improvement over your built-in webcam, and that's probably more than enough for most people. But if you are serious about video creation and are willing to invest a bit more into your video call and recording toolkit, you can check out my guide on the best camera, mics, and lights to level up your video quality.